Our Breads and Rolls
I LOVE the smell of fresh baked breads and rolls! Mmmm, just thinking about it makes my mouth water! Can you smell it yet? Maybe I can help that along. Some are traditional and some are more the brain child of a good friend of mine who was willing to share a bread recipe with me. Keep in mind that our breads and rolls are all hand shaped, as such they will have slight variations in shape.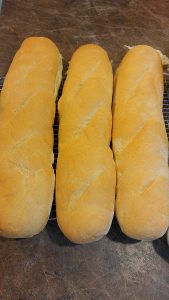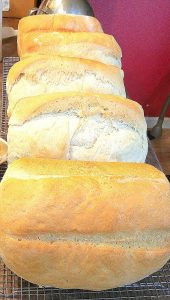 Lets start with French Bread. My family, friends and customers love it! A customer told me it is the best in town and that is a great compliment! Loaves start at $5 each. I can split it and add garlic and butter. Garlic loaves are $7 each. For a bigger zing, lets add cheese! A Sharp Cheddar and Parmesan mix sprinkled over the top and then wrapped in foil ready for you to place in the toaster oven or under the broiler! Yummy!!! Give us a call to order yours.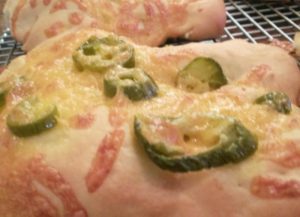 Focaccia Breads: Focaccia is a flat Italian bread lightly crisp on the outside with a soft creamy center infused and topped with herbs and cheeses or other ingredients like sun dried tomatoes, finely chopped olives and Pepperoncinis. Small loaves are 4 for $12 or a single large loaf for $12.
Dinner Rolls: hand shaped, light and fluffy with a buttery top. Start at $5 a dozen. Pick from White or 50/50 white and wheat.
Rolls: For something larger than a dinner roll with flavor to compliment your sandwich toppings try Pesto, Jalapeno Cheddar, Pepperoncini Olive and Cheddar, Garlic and Herb, PRETZEL and Dill with sea salt. Start at $12 for a half dozen.
Sandwich White is $5 a loaf and can be made 50% wheat. Most loaves average 2 pounds which is approximately 12 servings depending on how you slice he loaf.
Our Creative Breads are unique combinations of yeast bread and various fillings that you have to try to know how awesome they are. I start with a basic bread dough and fill it with some original flavor combinations like:
Chocolate Cherry Bread: Filled with cherry's and chocolate chips.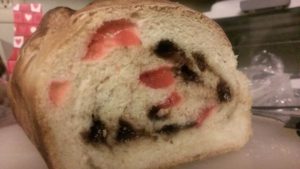 Peperoncini, Olive and Cheddar: Pretty self explanatory, this flavor combination is a party in your mouth!
Jalapeno Cheddar: A classic flavor combination loved by a lot of customers.
Peanut Butter Bomb: Is filled with peanut butter, peanut M&M's and chocolate chips.
Candy Bar Blast: Pick three of your favorite candy bars and that is what I fill the bread with.
Red and White: A bread in the tradition of our local Quincy High School colors and spirit! Filled with red cinnamon candy and white chocolate.
Cinnamon Swirl: with or without raisins and delicious made into french toast!
So many more combinations available.
Loaves start at $7.50