All kinds of homemade cookies!
Here at Angela's Baker Way Bakery we have lots of favorites! What are your favorite cookies?
Old fashioned favorites…
Do you like Chocolate Chip, Sugar, Oatmeal, Jelly Thumbprint and Peanut Butter. I think the classics are the head bakers favorite 😉 With 2 sizes to pick from we offer our Cookie Jar size and Jumbo size. Prices are based on amount ordered. Minimum order of 2 dozen per flavor please. Starting at $8.00 a dozen for the small cookies.
One of a kind cookies…
Have you tried our one of a kind cookie? Created by yours truly, the Trouble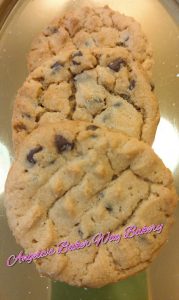 Maker full of chocolate chips, white chocolate chips, pretzels and caramel. This cookie was named the Trouble Maker by a customer who entered our contest to name the cookie created in our bakery. This one is available as a cookie jar sized at $8.00 dozen and Jumbo sized at $21 a dozen. We have a cupcake that has the same delicious flavors! check out our Cake and Cupcake page for more info!
Seasonal Cookies…
We offer seasonal favorites like Peanut Butter Kiss, Ginger Bread, swirled shortbread, and many more. We offer assorted cookie trays anytime of year but have found them to be most popular Thanksgiving through Christmas. If you have had the cookies at Plumas Bank in Quincy during Decembers Customer Appreciation then you have had some of our fantastic Holiday Cookies! We are happy to design a cookie table for your wedding, business or other event! Contact us for pricing.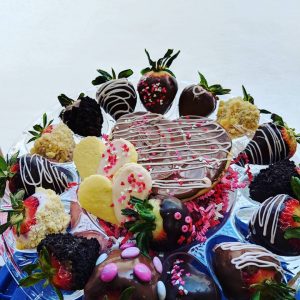 Custom shapes and designs handmade…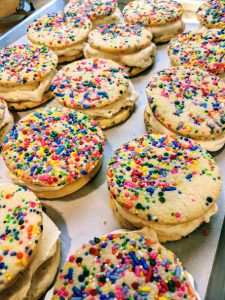 Each order is created with our customers in mind. With custom shapes and flavored icing you are sure to find something you will love. These hand made sugar cookies are delicious and beautiful.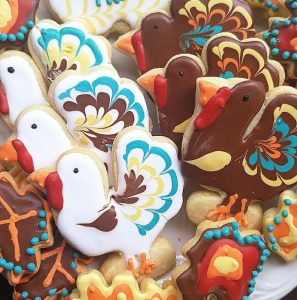 Each is a work of art designed for your special occasion. Pricing is based on how detailed they are. Contact us for a quote.