Cinnamon Rolls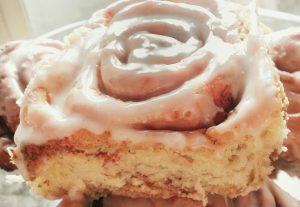 "For as long as I can remember Cinnamon Rolls have been one of my favorite things, so over the years I have worked on perfecting my recipe into the amazing confectionery swirls of dough, cinnamon, spices, butter, sugar and glaze that I make today. I have been told by many of my customers that they taste like the ones their grandmas used to make. Want to know the secret to these amazing Cinnamon Rolls? The glaze. It is perfection on top of perfection! You should try one!" -Angela Sandlin
"Angela's Cinnamon Rolls are delicious!" – Traci Rick
Ordering Cinnamon Rolls and Sticky Buns…
You can call and order Angela's Amazing Cinnamon Rolls any time of the year. Our ORIGINAL are available year round!! This is a big seller at our booth at the Quincy Farmers Market all summer long. They are made fresh on the day of Farmers Market. The same goes for every Cinnamon Roll order that goes out the door. They are made fresh the day of pick up. You can also separate and freeze them for reheating later. They reheat well and are still delicious!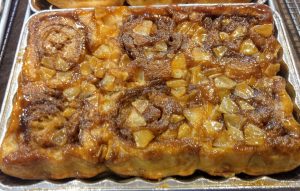 2018 Cinnamon Roll Menu:
Original Glazed Cinnamon Rolls
Strawberry Lemonade
Blackberry Lemon
Caramel Apples and Cinnamon Sticky buns
Whiskey Caramel Pecan Sticky Buns
Cinnamon Raisin
S'mores
Birthday Sprinkle
Almond Chocolate Coconut
Our order list for holidays fills up fast. Some of our customers have standing orders for Christmas day. Order your Cinnamon Rolls for Christmas Day breakfast, Valentines Day, or Mothers Day Brunch as far in advance as possible! If cake is not your thing then let's make a Cinnamon Roll Wedding Cake or a custom birthday shape from Cinnamon Rolls! Our creativity is at your service.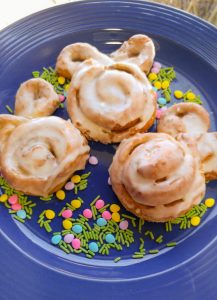 Fall Winter 2018 (after September 1!) Flavor List
Original Glazed Cinnamon Rolls
Orange Cranberry White Chocolate
Pumpkin Spice
Caramel Apple
Caramel Apple
Whiskey Caramel Pecan
Cinnamon Raisin
Birthday Sprinkle
Almond Chocolate Coconut
Red Hot rolls ( Valentines Special)
Pricing…
Giant Cinnamon Rolls are $18 a half dozen and $36 for a full dozen. Cinn-a-minis are our tiny 4 bite version of a cinnamon roll. They are $24 a dozen.
Open a comment link to place an order.